Patna and Muzaffarpur Smart City Limited Various Posts:-
Advertisement No -02/2022 for patna and Reference no 980-MSCL for Muzaffarpur
Patna and Muzaffarpur Smart City Limited ने विभिन्न पदों पर नियुक्ति हेतु आवेदन आमंत्रित किये है |
पटना में Manager (IT),Public Relation Officer (PRO) पदों पे एवं मुजफ्फरपुर में Chief Executive Officer,Manager Technical,Company Secretary (CS)  के   पदों पे|
,विस्तृत जानकारी के लिए इस पोस्ट पे बने रहे |
Patna and Muzaffarpur Smart City Limited Various Posts  Details:-
For Muzaffarpur :-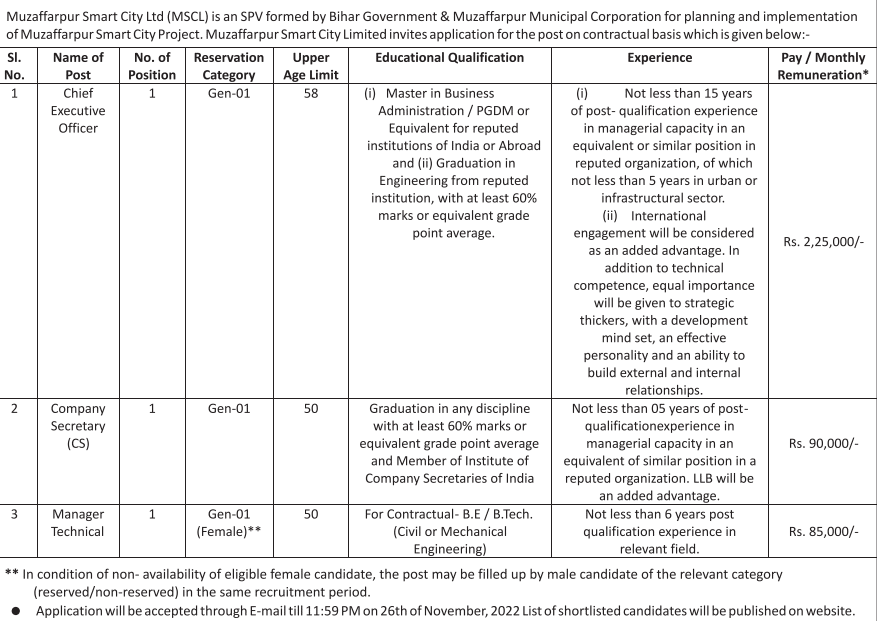 General Instructions:-
in condition of non-availability of eligible female candidate, the post may be filled up by male candidate of the relevant category (reserved/non-reserved) in the same recruitment period. Application will be accepted through E-mail till 11:59 PM on 26th of November, 2022 List of shortlisted candidates will be published on website.
1. Website http://Muzaffarpur.nic.in, email-muzaffarpur.ulb@gmail.com, Contact No. 7004003781 Note: Prescribed pay/remuneration may vary as per Govt. guidelines issued from time to time.
Patna and Muzaffarpur Smart City Limited Various Posts Details:-
For Patna:-
General Instructions:-
1 Detail information and application form can be downloaded from website:-` http://www.smartpatna.co.in
2. Application form with complete details should be sent through E-mail on patnasmartcity psel@gmail.com latest by 3 PM on 07/12/2022with all attachments. Applications received after the due date & time will not be accepted.
3. Recruitment on the posts will be on consolidated salary for one year on contractual basis or till the completion of Smart City Mission, whichever is earlier.
4. Candidates serving in Government Department/Undertaking are required to produce No Objection Certificate at the time of interview Application fee SC/ST category is INR 250/- and other INR 500/- to bedeposited online (NEFT/IMPS/RTGS) to Patna Smart City Ltd. In Savings Account No. 73211100000023, IFSC code: PUNBOMBG806, with Dakshin Bihar Gramin Bank Branch Kankarbagh Patna-800020 and proof attached with the application to be submitted online.
5.As there is a litigation pending regarding the post of Manager (IT) in the Hon'ble Patna High Court, therefore this vacancy will remain subject to the final outcome of the pending litigat Application incomplete in any form shall be rejected.
6.The cut of date for upper age limit& post Qualification experience shall be 1″Dec. 2022.
7. PSCL reserves the right to reject any or all application at any time without assigning any reasons whatsoever. The jurisdiction for ay dispute redressal will be court at Patna only.
8. Qualification criteria laid down for the post is Minimum and does not imply that every applicant possessing the same will be called for interview PSCL reserves the right to evaluate the proposal as per itsrequirements.
9. in the event of qualification or experience certificate, age proof, caste certificate or any other document found to be incorrect or false after the recruitment, the employment contract will be terminated, and suitable legal action will be initiated against the candidate. In this case PSCL will have right to reclaim any pay or compensation paid to the candidate.
10. Candidates shall have to submit a declaration that neither he has been charged /convicted from any Hon'ble Court nor dismissed/removed /compulsory retired by way of punishment from the service of any Public Undertaking/Private Sector or from Govt. Department nor he has been declared insolvent by anycourt.
11. Shortlisted candidates will be informed about interview and further process through website andemail.
Read Also:-
Patna and Muzaffarpur Smart City Limited Various Posts
Some Useful Important Links

Official Website